About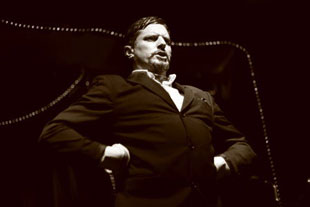 Gramophone Man resurrects all those great sounds your grandparents used to love on 78rpm Records.
Using genuine His Master's Voice wind up Gramophone Players, the GM plays all the songs from the 20's 30's and 40's that you don't know you love, and some that you wish you'd never heard.
Combine this with his over excited dancing and suave between song patter and you have a unique and often hilarious show that works best in sets of up to 45 minutes, or as interval/MC/interview entertainment.
Gramophone Man is now able to perform as a fully self contained street theatre shellac DJ. His new 'steam powered' mobile DJ Cart has 'two turntables & a microphone' of the most antique vintage around, employing two orginal His Masters Voice portable gramophones to deliver the sound of 78's from the 20's, 30's and 40's.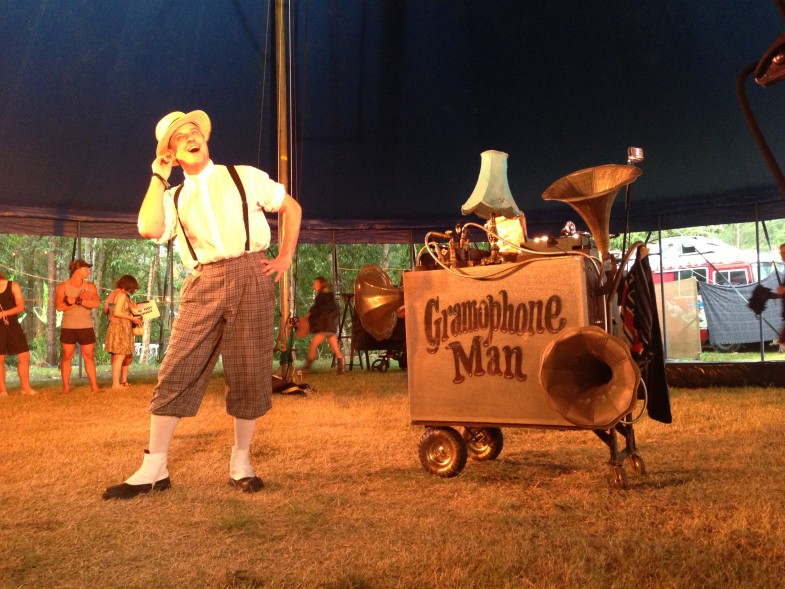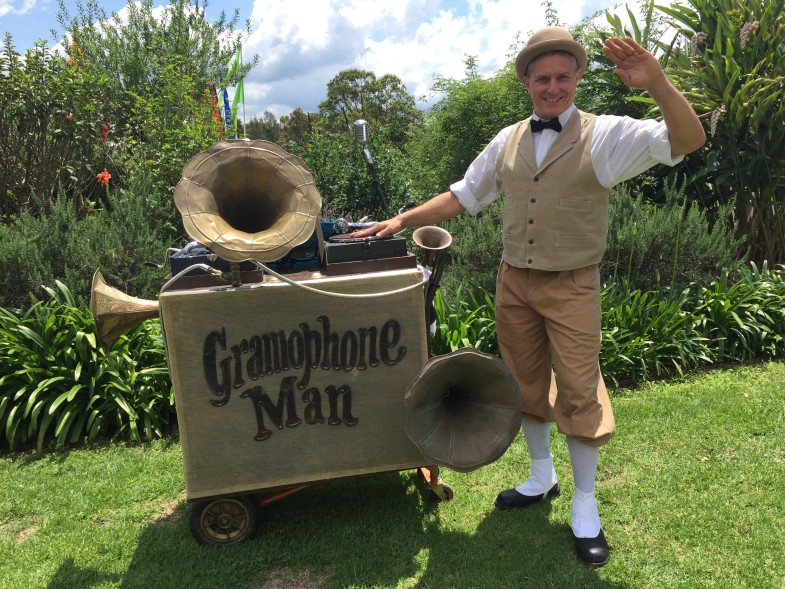 The Myth

Spring, 1947, and as the Antarctic supply ship HMAS Figment breaks through the Spring ice on it's way to Mawson Base, ship's cook and general 'bon vivante' Richard 'Dick' Frensey regales the crew with another of his outrageous after dinner anecdotes. A sudden screeching noise breaks the monotony of Dick's monologue. The crew feels the ship come to a gradual shuddering halt. News comes from the bridge that the ship can go no further.
The following morning, the crew take to sleds to cover the remaining 20 miles of the journey. Some 10 minutes into the trip across the forbidding landscape, a cry goes up from the rear of the convoy.
It's Dick!
He's left his 'picnic special' gramophone player and his collection of jaunty 78's on board. The idea of months of isolation without those crazy boogie woogies is too much for Dick to bear and he valiantly suggests that he'll head back alone to get them if the convoy waits for him.
The weather worsens and the convoy are forced to go on ahead without him…….
Forward now to 1999 and meteorologist, Serge Copine sees a strange formation in an ice wall close to Mawson Base, Antarctica. He examines it a little further. As he chips away at the ice, a black shape becomes apparent….it looks like….a record. A 78 in fact!
Serge quickly realises that there is a man encased in the ice. Within the hour, Serge has almost uncovered the frozen man, his 78's and the Gramophone. Serge puts his skis on and hurries back to the base to fetch his colleagues and show them his amazing discovery.
As the four of them ski back to the ice wall, they hear an eerie sound drifting towards them. Coming closer, they realise it is music of some sort….high pitched and wavering……