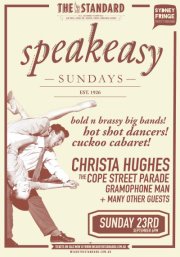 BOLD N BRASSY BIG BANDS! DANGEROUS AND DARING DIVAS! HOT SHOT DANCERS! CUCKOO CABARET! VALIANT VAUDEVILLAINS!
This is Sydney's best night out on the town so dust that tux & glad rags & dance it away with the creme de la creme of Sin City's finest because SPEAKEASY SUNDAYS IS BACK! Since it's sell out premier at the Sydney Opera House "Speakeasy Sundays" is back again and happening for all to revel in its smoked out glory. Whiskey, Gin and Jazz are on the cards as we lock the doors for this one off performance.
The mistress of blues herself, CHRISTA HUGHES, will be leading a star studded cast through a raucous evening of down and dirty tunes to get your Fringe, fringing. Making their first Speakeasy appearance will be THE COPE STREET PARADE, the greatest dance band in all the land. They'll be bringing their best for the lindyhoppers and listeners alike. GRAMOPHONE MAN will be setting the mood all night, spinning the deck's 1920′s style.SPEAKEASY SUNDAY'S IS BACK SYDNEY for your Fringe Festival.